A mad scramble to find new homes as Clearwater mobile home park closes
Kavitha Surana | Tampa Bay Times
Nov 01, 2019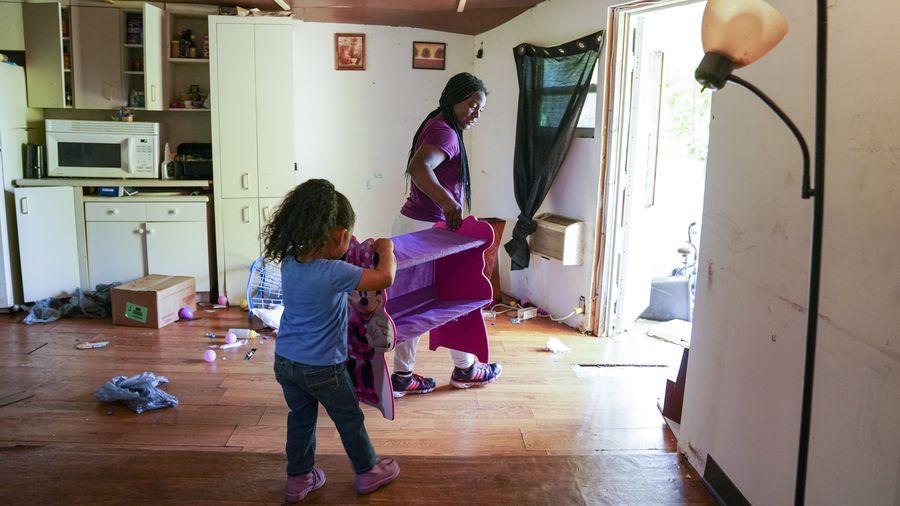 Time ran out for the residents of the Southern Comfort mobile home park this week.
What was once a tidy neighborhood of about 500 people off U.S. 19 was practically a ghost town by Halloween. A judge had ordered it closed by Thursday, after the owner's decade-long failure to fix a sewage system that leaked bacteria into the ground and raised questions about the park's drinking water.
Most families moved out before the deadline. Their houses sat vacant and boarded up, windows smashed in. Stray cats roamed the empty streets like they owned the place. And the last stragglers feared they wouldn't make it out in time.
Inside those pockets of panic, scattered around the park, the last residents spent this week scrambling to avoid being left homeless.
"We are just in freak-out mode," said Kreshae Humphrey a 26-year-old mother of three who spent Wednesday worrying about where her family would go.
"It's kind of just hitting me," said her partner, Eric Soto De Jesus, 26. "We are putting all our furniture out on the street."
• • •
Once, children had played in the park's streets and neighbors threw Christmas block parties. Now it looked like the set of a dystopian movie, one where all the inhabitants suddenly disappeared while moving out.
The demolitions have already begun. Caution tape surrounded a flattened house, where lizards crawled through a pile of wood chips and insulation.
Nevaeh Soto De Jesus, 3, the oldest of Kreshae Humphrey and Eric Soto De Jesus' three daughters, helps family move on Thursday, the day they had to abandon their home at the Southern Comfort mobile home park in Clearwater. [MARTHA ASENCIO-RHINE | Times]
Brown couches and black trash bags lay Wednesday by the hibiscus bush outside the home that Humphrey and Soto De Jesus had spent three years fixing up.
Inside, they were sweeping their belongings into piles and deciding what to keep and what to toss. They were preparing for the worst case scenario — moving their three young daughters into a homeless shelter, which would mean giving up most of their possessions.
"Oh, we gotta keep the mermaid," Soto De Jesus said, holding up a glittery blanket shaped like a mermaid's tail.
"No, we gotta throw it out," Humphrey said, shaking her head briskly. She saw a quarter on the floor and picked it up. "Gotta keep that for the savings jar," she said. Three-year-old Nevaeh fished the mermaid tail out of a trash pile and hugged it to her chest.
Despite their ordeal, they were relieved to leave behind the park's drinking water, which they believe was contaminated and ravaged the skin of their two oldest daughters. They are one of two families who have sued Southern Comfort's owner in Pinellas-Pasco Circuit Court. The owner has denied the allegations.
Darla Fullmer, 76, overwhelmed by having to sift through her belongings, became upset and cried on Thursday, the day she had to abandon her home of 20 years at the Southern Comfort mobile home park in Clearwater. [MARTHA ASENCIO-RHINE | Times]
Up the hill, Darla Fullmer was also struggling. The 76-year-old had lived in her white, green-trimmed mobile home for 20 years and filled it with her collection of porcelain dolls and craft projects. She didn't know quite how to say goodbye to her life there.
The judge and owner agreed to close the park in October 2018. But residents like Fullmer didn't find out until April, when social services agencies met with families and told them where to look for help. Fullmer said when she called the list of numbers they gave her, she always got the same answer: No vacancy.
She wasn't sure what to do. She lived off her social security checks and had no family. She didn't want to abandon her two cats, Lucky and Blue Eyes.
Social service agencies returned to check on her earlier this month and realized her plight. "They told me I kind of fell through the cracks," Fullmer said, tugging on the sides of her T-shirt and trying to keep the tears back.
Representatives for the county and social service agencies canvassed the neighborhood all week, knocking on doors and checking in with the last inhabitants to make sure they had a plan.
"Everyone has been accounted for that we know of," said Pinellas County Director of Human Services Daisy Rodriguez on Wednesday.
• • •
Humphrey spent months searching for a new place to live. Last week, she thought she had finally found the solution to her family's housing woes: A sky-blue house with three bedrooms, a white picket fence, and a big backyard in Tarpon Springs, across the street from a public library. The owner accepted Section 8 vouchers and on Oct. 23, the house passed inspection. The family had a week to move-in.
Then bureaucracy jeopardized everything. The landlord required $1,500 for security deposit and first month's rent, but Humphrey wasn't sure they could scrape the funds together. Money was tighter than ever. Soto de Jesus lost his job soon after they learned the park was closing. He has only found part-time work — and they still had paid the usual $658 in rent for their lot in October.
Humphrey was connected with the Family Services Initiative, a service funded by the Pinellas County Juvenile Welfare Board to provide emergency assistance for families. As soon as the house was inspected and approved for Section 8, a caseworker came over to gather the documents required to release the deposit money.
But the caseworker told them the agency only cuts checks on certain days of the week. Humphrey's family would have to wait until Friday. But Southern Comfort was supposed to be closed on Thursday. Where would they go? What if there were more delays or something else went wrong? They might lose the Tarpon Springs house altogether.
To keep herself motivated, Humphrey scribbled to-do lists and math equations in dry-erase marker on her fridge. There had to be a way to make the patchwork of social service assistance add up to a future. She called family members, contemplated spending the interim in a homeless shelter and even launched a GoFundMe page to help with the deposit. It only raised $150.
The uncertainty left the family preparing for the worst. They dumped their furniture outside and swept up the girls' toys — little teddy bears, a purple My Little Pony, and pink sparkly fairy wings — into trash bags.
A Tampa Bay Times reporter called the Juvenile Welfare Board on Wednesday to ask about Humphrey's case. Chief Operation Officer Judith Warren said the agency could not say whether it was working with the family due to confidentiality rules. But she did discuss the program in general.
"There's a lot of complexity in the approval process because we are a government entity," she said. "We have to verify income, we have to verify jobs, so that we are accountable to the public."
• • •
At Fullmer's house, four social services workers from various agencies hovered around her, helping her pack up for the movers. They put green check marks on furniture she was taking with her, and red X's on the things to leave behind. Her new apartment will be a lot smaller than her two-bedroom mobile home.
The agencies had been meeting every day since last Friday to coordinate help, Rodriguez said. They got Fullmer's Section 8 funds expedited, then found an apartment complex that accepted her.
It wouldn't be available for another week, though, so they arranged for her to stay in a hotel and put her belongings in storage. The Humane Society of Pinellas will keep her cats until she gets settled into her new home.
"They reassured me that, since I don't have a place to go, they are going to take care of them," Fullmer said.
By Thursday morning, Humphrey and Soto De Jesus were in high spirits.
The night before, they received an unexpected call from the Juvenile Welfare Board. They learned that their deposit would be expedited and sent to the landlord that next day. They could start moving their things into the sky-blue house in Tarpon Springs.
Kreshae Humphrey and Eric Soto De Jesus load a crib into a pickup truck they borrowed to move their family on Thursday. That was the day they had to abandon their home at the Southern Comfort mobile home park. [MARTHA ASENCIO-RHINE | Times]
Humphrey figured the couch that spent the night on the curb wasn't worth salvaging. But she was relieved to keep the cherry-oak crib that had been in a family hand-me down that all her babies had slept in.
"It's crazy how everything came together today," she said. "We got a house, I can't ask for more."
That evening, on Humphrey's 27th birthday, the landlord gave them the keys. Maybe, she thought, they could celebrate with her favorite meal, crabs from Pompey Seafood Market, and a trip to a free haunted house.
But after all the trips back-and-forth to move their belongings from the park, she and Soto De Jesus were exhausted. They would have to wait a day for electricity and internet. For now, they were home.
To view article by Tampa Bay Times visit: https://www.tampabay.com/news/pinellas/2019/11/01/a-mad-scramble-to-find-new-homes-as-clearwater-mobile-home-park-closes/