Federal employees without pay need help with food in Pinellas
Suzette Porter | Tampa Bay Newspapers
Jan 24, 2019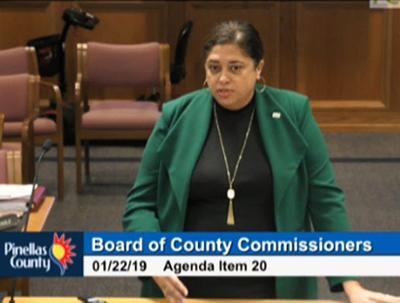 About 1,300 Pinellas County residents are going without a paycheck due to the federal government shutdown that has dragged on for more than a month.
"One of the main things these folks have indicated that they need is help with food," said Assistant County Administrator Lourdes Benedict during a Jan. 22 County Commission meeting.
Benedict said several organizations, including 211, RCS Pinellas, Network to End Hunger, Juvenile Welfare Board and the Coast Guard had been meeting biweekly to talk about ways to help and get help.
She said the 1,300 federal employees include about 130 airport workers and 1,100 who serve in the Coast Guard. About 800 Coast Guard service members are in Clearwater, 300 are in the St. Petersburg area and 500 are stationed at Sand Key.
The County's Human Services Department is working to connect all the partners together to focus on these employees' needs, Benedict said. One of the things they've been able to do is "popup" food pantries in three locations to supplement all the pantries that already assist people in need in the county.
The St. Petersburg Free Clinic's Food Pantry is assisting Coast Guard service members in St. Petersburg and RCS is helping Coast Guard members in Clearwater. A pantry also is located in the St. Pete-Clearwater International Airport.
Benedict said the idea to "popup" food pantries for airport workers and Coast Guard service members came from a desire to "bring food to the workers, so they wouldn't have to stand in line, go to a pantry or even spend their gas money on that."
Michele Routh, public relations director at the airport, said employees with the Transportation Security Administration had been managing the food bank at the airport and various employees and tenants have contributed. She said it started with donations from Signature Flight Support. St. Petersburg Free Clinic has volunteered to coordinate the food bank in the future, she said. About 100 TSA employees work at the airport.
Benedict sent a "shout out" to the St. Petersburg Free Clinic and RCS for their work.
"It's really humbling, being in on some of these calls (biweekly meetings) and anything that anyone asks for, they just basically say yes," she said.
The message continues to be, "You just tell us what you need and we'll get it done," Benedict said.
Another partner stepping up to help is the Pinellas Community Foundation, which authorized $30,000 to support food relief efforts. Grants of $10,000 each were given to Feeding America Tampa Bay, RCS and St. Petersburg Free Clinic.
"Families feeling the hardship of lost wages from their federal job may never have used a food bank or food pantry in the past," said Duggan Cooley, Pinellas Community Foundation CEO. "We want them to know the community is here to help, and we encourage them not to be embarrassed to reach out."
For a list of food banks and pantries in Pinellas, visit pinellascf.org/pantries.
The Humane Society of Pinellas, 3040 State Road 590 in Clearwater, has a food pantry that can help federal employees with pets. For more information, call 727-797-7722 or visit www.HumaneSocietyofPinellas.org/pet-food/.
The city of St. Petersburg is collecting donations for Coast Guard families through the Sun Coast branch of the US Coast Guard Chief Petty Officer's Association. Collection boxes are located at City Hall, 175 Fifth St. N. Suggested donations include grocery store gift cards and gas station gift cards. Other suggested items are:
• Nonperishable food items.
• Cleaning supplies, such as paper towels, dish soap, hand soap, laundry detergent.
• Toiletry items, including toilet paper, feminine products, shampoo, conditioner.
• Baby items, such as diapers of all sizes, pull-ups, baby wipes.
• Pet food
Utility bills
Paying utilities bills could be a problem for some. County Utilities is deferring payment of bills. The city of Pinellas Park is deferring utility fees including water, wastewater, storm water and solid waste. Late fees will be waived for Coast Guard and federal public service employees until the furlough is over. In a post on its Facebook page, the city of Clearwater said it would work with anyone that is part of the government shutdown. The city of Oldsmar also is in the list of those deferring utility bills for federal employees who aren't receiving pay. Those in need of help with their bills are urged to call the customer service number on their bills.
PSTA to help with free bus rides
Robert Sanders, a PSTA bus driver, spoke at the agency's Jan. 23 Board meeting and requested that PSTA help by providing free bus rides to furloughed federal employees. He said many in the community were helping in different ways, but nobody was addressing transportation needs.
"We can help hundreds of families right now," he said.
He said by offering free rides on the bus, PSTA could provide "peace of mind" to those struggling to pay for gas, insurance and other costs of transportation.
PSTA CEO Brad Miller said staff had talked about offering free rides and with the encouragement of the Board agreed to start what he called a pilot program.
"Hopefully the government will open soon," he said, agreeing to promote the free service to be available to employees by showing their federal ID to bus drivers.
Free rides will continue for 30 days past the end of the shutdown.
Call 211 for assistance
211 is the single point of contact to get help. Federal employees can call 211 or text their zip code to 898211, Benedict said.
211 can connect federal employees to programs, such as the County's Adult Financial Assistance Program and JWB's Navigators, which are available to help families.
Benedict said United Way had donated $20,000 to help 211 buy whatever is needed from diapers to food — whatever people may need.
The Coast Guard has a mutual aid program offering loans. A number of credit unions also have loan programs. A list is available at www.211.org/services/govshutdown, which has a wealth of other information on surviving the shutdown.
SNAP benefits (food stamps) are available through February, Benedict said. They have already been issued and people are urged to budget them as no more will come next month. The school reduced and free lunch program is funded through February. Benedict said the School Board is working with families of federal employees that need help.
How to help
Besides the donation box at the city of St. Petersburg, the public can donate to any local food bank, including St. Petersburg Free Clinic and RCS, which are coordinating the "popup" pantries. Companies and organizations that want to help can call the County's Human Services Department at 727-464-8417.
Commissioner Dave Eggers encouraged county staff to work with all 24 municipalities to make sure efforts aren't being duplicated. Commission Chair Karen Seel agreed.
"As this drags on, the impact will become even more daunting and difficult for our federal employees," Seel said.
To view article in Tampa Bay Newspapers visit: https://www.tbnweekly.com/pinellas_county/article_080238d4-2024-11e9-8a24-0371016df94f.html