The Grier Family Story
"It was tough to keep a smile on my face. I was still going to work. I would wash up in the bathroom then go to work all day. I had two sets of clothes; one I would wear and one I would wash at work."
Jeremy Grier is talking about a time when he was homeless. Sleeping in a park not far from the one where he now takes his two young children to play, after regaining custody. When Jeremy called 2-1-1 for assistance, he had reached a breaking point.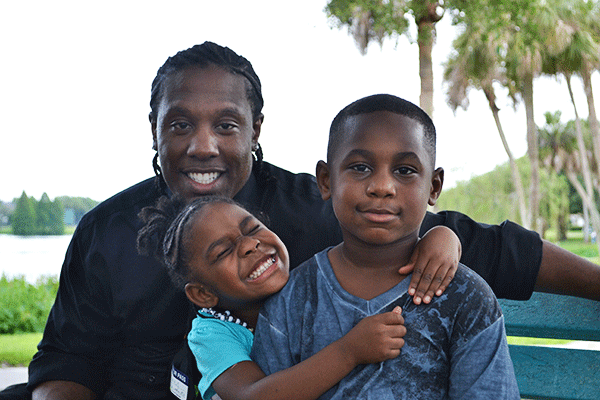 "When you go through a state where you're down and depressed, you kind of attract all kinds of bad stuff to keep happening. When you can finally take that breather and know that someone else understands what you're going through – when they can give you a helping hand – that's really the biggest thing.  Just changing your perception like that kind of opens the door for other good stuff to come in. It frees your mind up to accept stuff that's around you that could be a blessing that you couldn't see at that time.  
The Grier family was referred to the Family Services Initiative and assigned a PEMHS Family Navigator. The top priority was stable housing. The family was placed in a temporary shelter, then connected to a case manager with the county's Family Housing Assistance program. Meanwhile, his Navigator obtained bus passes and expedited childcare vouchers for the children.  
Every referral made – every opportunity presented – Jeremey gave it his all. From Financial Fitness classes to the Wheels of Success program. This father of two was promoted to shop manager at the hair salon where he is employed, and he was hired to teach cosmetology at Pinellas Technical College.
Today, the Grier family is thriving. They are living in permanent housing, have settled into a stable routine, and have built a supportive network.
"I was blessed to be in a program where they could take up some of the slack that I couldn't."
About the Family Services Initiative
The Family Services Initiative (FSI) connects Pinellas County agencies and resources to provide real-time help for struggling families. While multiple partners access and contribute to the system, four core partners comprise the FSI collaborative: 2-1-1 Tampa Bay Cares, Personal Enrichment through Mental Health Services (PEMHS), Central Florida Behavioral Health Network, and Juvenile Welfare Board.