Local Program Saves Infant Lives, Expands throughout Florida
St. Pete Catalyst | Mark Parker
Feb 01, 2023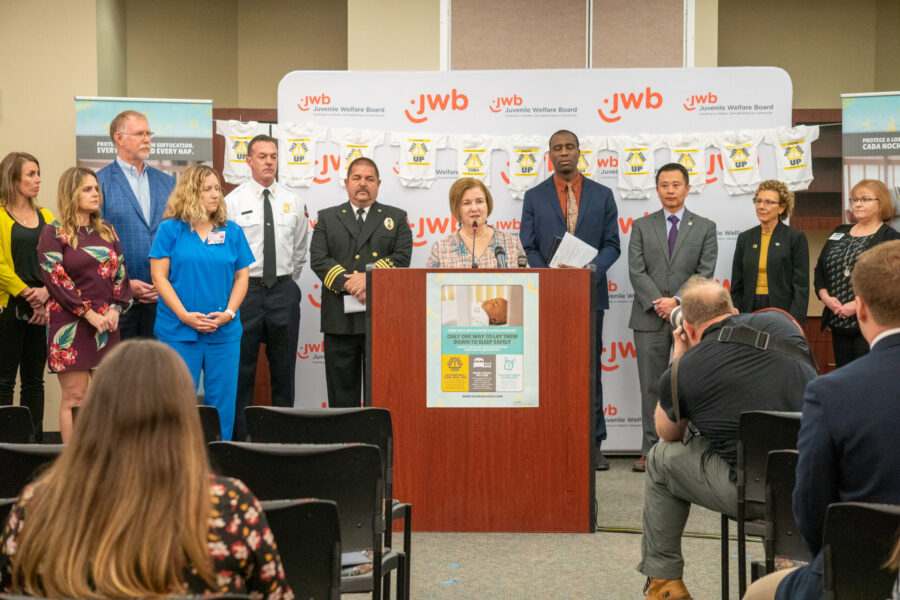 According to the Department of Health, on average, a healthy baby in Pinellas County suffocated and died from sleeping unsafely every month until 2018; a local campaign has since reduced those deaths by 50%.
In 2018, the Pinellas Juvenile Welfare Board (JWB) launched Sleep Baby Safely, a data-driven campaign that offers consistent messaging, coordinated materials and educational training. The goal was to prevent and eliminate the leading cause of death in children under six, and its success has led to a statewide model.
Beth Houghton, CEO of JWB, told attendees at a press conference in Clearwater Monday that contrary to popular belief, the deaths were not the result of sudden infant death syndrome (SIDS). Research showed that the county's medical examiner had not listed SIDS as a cause of death in over 20 years.
Houghton said that in the decade before the Sleep Baby Safely initiative, the county lost over 100 babies to asphyxiation. She added that 66% of those occurred in an adult bed while parents co-slept with their children.
"That's six empty kindergarten classrooms," said Houghton.
However, she relayed that the local JWB affiliate and its community partners used that harrowing data to create a lasting change.
Today, over 50 partner agencies work collaboratively on the Sleep Baby Safely campaign. They provide education and distribute materials through several related touchpoints – birthing hospitals, obstetric and pediatric offices, social service providers, childcare centers and first responders.
Houghton said the county's four birthing hospitals play a critical role in the program's efficacy. Nurses from Bayfront Baby Place, Mease Countryside, Morton Plant and St. Petersburg General Hospitals provide 7,000 parents with face-to-face sleep education annually.
"A powerful voice in teaching parents how to do what they ought to do from the very beginning," said Houghton. "Plus, parents receive a free Welcome Baby Bag."
Those include practical items to promote safe sleeping, like a "SLEEP ME THIS SIDE UP" onesie and an "ALONE-BACK-CRIB" sleep sack. The initiative reduced infant sleep-related deaths by half, and other areas of the state began taking notice.
According to an accompanying informational sheet, the problem was even worse in Duval County, where an average of two babies died monthly. After realizing the Pinellas program's success, Duval officials implemented a pilot campaign in 2020.
Infant suffocation deaths plummeted by 75% during that initiative's first year.
The Pinellas County model is now a statewide best practice, and the Florida Legislature earmarked $2.35 million for Sleep Baby Safely replication and expansion in this year's budget. Dr. Joseph Ladapo, Florida Surgeon General, made the formal announcement at the press conference.
The funding is available to eight counties with infant sleep-related death rates above the state average. In addition to Pinellas and Duval, those include Hillsborough, Miami-Dade, Orange, Palm Beach and Polk Counties.
Ladapo said reducing infant deaths is a bipartisan issue, "so you get a lot of support for doing great things with babies."
Lealman Fire Chief Jim Millican, a JWB board member, expressed his pride in the program. He said the deaths "are 100% preventable" and compared the newfound model to car seat usage.
"Car seats weren't always the norm," said Millican. "Today, we wouldn't even think about traveling without a car seat in our car for our kids. So, we know more than we used to know and can apply the same logic to co-sleeping and other unsafe sleep practices."
JWB and Pinellas Department of Health officials state that suffocation due to unsafe sleep is still the leading cause of childhood death in the county, state and nation. Here are their safe sleep tips:
Follow safe sleep ABCs – Alone, Back and Crib: Babies should sleep alone on their back in an empty crib, bassinet or Pack n' Play. Remove all items from the area and only use a firm mattress and tight-fitting sheet. Use a one-piece sleeper or sleep sack to keep the baby warm instead of loose blankets.
Share a room, not a bed: Bring the crib into the parents' room during the baby's first year, as room sharing keeps the baby close without the risks. Never put a baby to sleep on soft surfaces.
Stay alert while feeding the Baby: Parents should set an alarm and always return their baby to its crib after feeding. Breastfeed if possible, do not smoke around the baby and avoid alcohol or drugs.
For more information on Sleep Baby Safely, visit the website here.
Read the article as originally published at https://stpetecatalyst.com/local-program-saves-infant-lives-expands-throughout-florida/