Pinellas County approves maximum millage rates, discusses budget changes
Suzette Porter | Tampa Bay Newspapers
Aug 06, 2019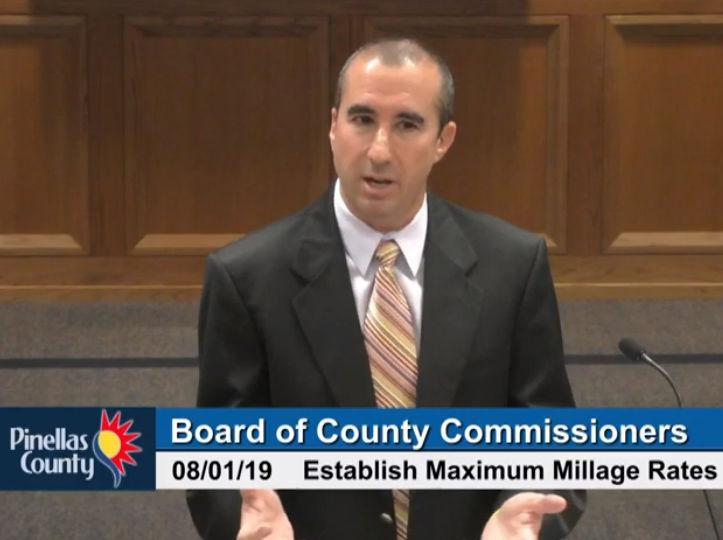 It's official. Pinellas County commissioners unanimously approved maximum millage rates for fiscal year 2019-2020 as proposed by staff during an Aug. 1 budget information session.
Commissioner Kathleen Peters was absent.
The rates will be certified and passed on to the property appraiser to include in Truth in Millage notices, aka TRIM notices, which will be mailed to property owners on or about Aug. 20.
After millage rates are certified to the property appraiser, commissioners can decide to decrease them, but they cannot be increased. Final millage rates must be approved before the beginning of the next fiscal year on Oct. 1.
Millage rates are used to calculate property taxes, aka ad valorem taxes, which are assessed on real property and tangible personal property. The rates are in mills. One mill is one dollar of taxes for each thousand dollars of taxable value. For example, a tax rate of 5.9 mills on a taxable value of $100,000 would cost $590 in taxes.
The property appraiser establishes taxable values as of Jan. 1 and certifies them in June. For more information, visit https://www.pcpao.org.
Maximum millage rates set by Pinellas County government remain unchanged from the current year, except for seven fire protection districts, which will see reduced rates. They include Belleair Bluffs, Clearwater, Dunedin, Gandy, Largo, Safety Harbor and South Pasadena.
The county has 12 fire protection districts that provide services to unincorporated areas. The county does not have its own fire departments. Property owners in the districts pay a separate millage to pay for contracted fire services.
Property owners who live within the High Point, Pinellas Park, Seminole, Tarpon Springs and Tierra Verde fire districts will have the same millage rates as the current year.
When TRIM notices arrive, property owners countywide will see separate millage rates for the general fund, health department and emergency medical services.
Residents in unincorporated areas of the county will see a millage rate for the municipal service taxing unit, better known as MSTU, which generates revenue to pay for services, such as law enforcement and others similar to those available to residents who live in a municipality. Unincorporated property owners also will see a millage rate for the Public Library Cooperative.
Property owners in Palm Harbor and East Lake will see millage rates that generate revenue dedicated to recreation and library services. Property owners in Feather Sound will have a millage rate for its community services district, which provides money for a variety of needs.
Property owners should note that Pinellas County is not the only taxing authority that receives property taxes. TRIM notices also could include millage rates from a municipality, the school board, Southwest Florida Water Management District, Pinellas County Planning Council, Juvenile Welfare Board and Suncoast Transit Authority.
Millage rates from all taxing authorities are added together to calculate each property owner's total millage rate.
Taxing authorities are advising property owners that property taxes may be higher this year due to increases in property values, despite some decreases in millage rates. The TRIM notice will provide an estimated tax bill based on maximum tentative millage rates, as well as the taxable value for your property.
Potential budget changes
Pinellas County's proposed fiscal year 2020 budget is just over $2.4 billion, according to the proposed budget presented to commissioners on July 23.
Bill Berger, director of the Office of Management & Budget, talked about some potential budget changes during the Aug. 1 meeting. He said if commissioners decided to fund the new requests, it would not affect the proposed maximum millage rates.
The medical examiner is asking for $99,000 to pay for a full time employee and equipment needed to satisfy an unfunded mandate from the state for THC testing.
A new state law, which took effect July 1, made it legal for farmers to grow marijuana for hemp fiber. In addition, it is legal for people to possess hemp products that contain 0.3% or less THC, which is the psychoactive ingredient in marijuana that produces a "high." These products also contain the non-euphoric chemical CBD, cannabidiol.
The state attorney's office announced Aug. 1 that it would no longer be charging people with possession of marijuana without an explicit confession or the development of a new test that distinguishes between cannabis and hemp.
Additional money, $149,000, may also be needed to fund the Cross Bay Ferry next year. St. Petersburg Mayor Rick Kriseman is expected to make a formal request for funding at the commission's Aug. 6 meeting.
The health department also is in need of $226,000 to fill a funding gap in the adult Medicaid dental program. The state has been contracting with private Medicaid providers, but has recently cut back on the amount of funding for the program.
Without additional revenue, about 4,000 low-income adults could lose access to dental care. Staff is looking at other options, but wanted commissioners to know about the potential need for more money. Berger said money was available in the health department's reserves to fund the program, if needed.
The final request was for more money for Court Case Management System enhancements. Berger said staff was not recommending funding the $220,000 in enhancements in next year's budget. Instead, Berger recommends bringing back funding requests as the enhancements are needed in years 2020-2022.
Commissioners also discussed travel budgets, as some commissioners travel more than others, the need for matching funds now that the federal government has awarded the county a grant for a business incubator, social action funding and additional uses of bed tax revenue.
Staff will continue work to finalize the tentative budget and post the final version to the county's website, www.pinellascounty.org, by Sept. 10. The first public hearing is set for Thursday, Sept. 12, and the second and final hearing will be held on Tuesday, Sept. 24. The hearings will begin at 6:30 p.m. in the fifth floor Assembly Room in the Pinellas County Courthouse, 315 Court St., Clearwater.
To view article by Tampa Bay Newspapers visit: https://www.tbnweekly.com/pinellas_county/article_bed3e3d8-b885-11e9-9e88-d38a536e2ecb.html